WEBINAR: Book dissection on "Islam, Authoritarianism, and Underdevelopment: A Global and Historical Comparison" with Ahmet T. Kuru
September 6, 2021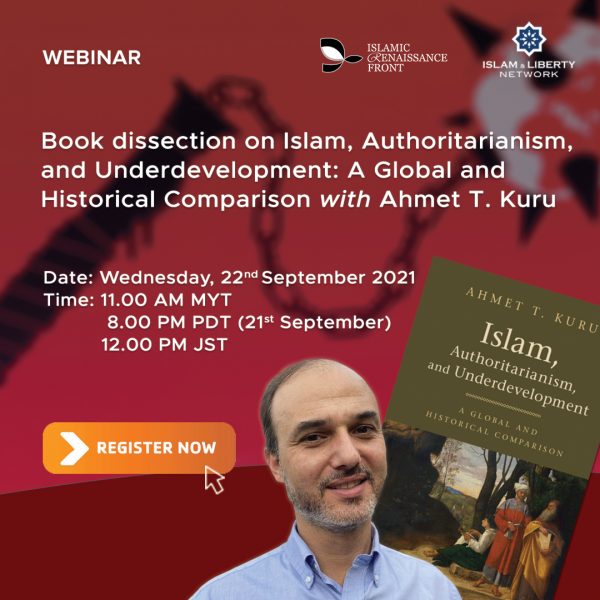 Date: Wednesday, 22nd September 2021
Time: 11 AM MYT || 8 PM PDT (21st September) || 12 PM JST
Speaker:
Dr Ahmet T. Kuru, Porteous Professor of Political Science, San Diego State University, & FORIS scholar at Religious Freedom Institute
Moderator:
Nageeb Gounjaria, Senior Research Fellow, Islamic Renaissance Front
Jointly organised by:
Islamic Renaissance Front (IRF) & Islam and Liberty Network (ILN)
Register at: https://www.eventbrite.com/preview?eid=169842717139/
The Zoom link will be sent upon registration before 21st September 2021.
You are welcome to join the chat during the webinar. You can also send your questions in advance to [email protected]
This book is an ambitious project that offers a closer look to a frequently asked question: why does authoritarianism reign supreme in most Muslim-majority countries today? In this webinar, Ahmet T. Kuru will talk about his new book "Islam, Authoritarianism, and Underdevelopment: A Global and Historical Comparison" (Cambridge University Press, 2019). Why do Muslim-majority countries have high levels of authoritarianism and low levels of socio-economic development in comparison to world averages?
Kuru elaborates an argument about the ulema-state alliance as the cause of these problems in the Muslim world from the eleventh century to the present. Criticizing essentialist, post-colonialist, and new institutionalist explanations, Kuru focuses on the relations between intellectual, economic, religious, and political classes in his own explanation.
Kuru also points to a historical period where a coercive state was aided by juristic "literalist epistemological hierarchy" that impeded legal pluralism/interpretations. More specifically, Kuru articulates the impact of this strict state-sanctioned Sunni orthodoxy on the depreciation of creativity in medicine, engineering, and ultimately in juristic dynamism. He argues that the lack of competing interpretations has further marginalized the once-fluid creative power of religious scholars, including modern intellectuals. This is primarily due to  state-sponsored criminalization of acts grounded in unreformed and inflexible epistemology such as apostasy.
About the Speaker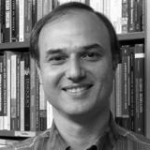 Ahmet T. Kuru is Porteous Professor of Political Science at San Diego State University. Kuru received his PhD from the University of Washington and held a post-doc position at Columbia University. He is the author of award-winning Secularism and State Policies toward Religion: The United States, France, and Turkey (Cambridge UP, 2009). His 2019 book, Islam, Authoritarianism, and Underdevelopment: A Global and Historical Comparison (Cambridge UP) received the American Political Science Association's International History and Politics Section Award. His works have been translated into Arabic, Bosnian, Chinese, French, German, Indonesian, Malay, Persian, and Turkish.
Program
1100-1105AM:      Introduction by the Moderator, Nageeb Gounjaria, Senior Research Fellow, Islamic Renaissance Front
1105-1145AM:      Presentation by Dr Ahmet T. Kuru
1145-1225PM:      Discussion
1225-1230PM:      Concluding remarks by Ali Salman, CEO, Islam & Liberty Network