[POSTPONED] WEBINAR: "Who lost, who won: Rushdie versus the Muslims" with Dr Shabbir Akhtar
September 20, 2022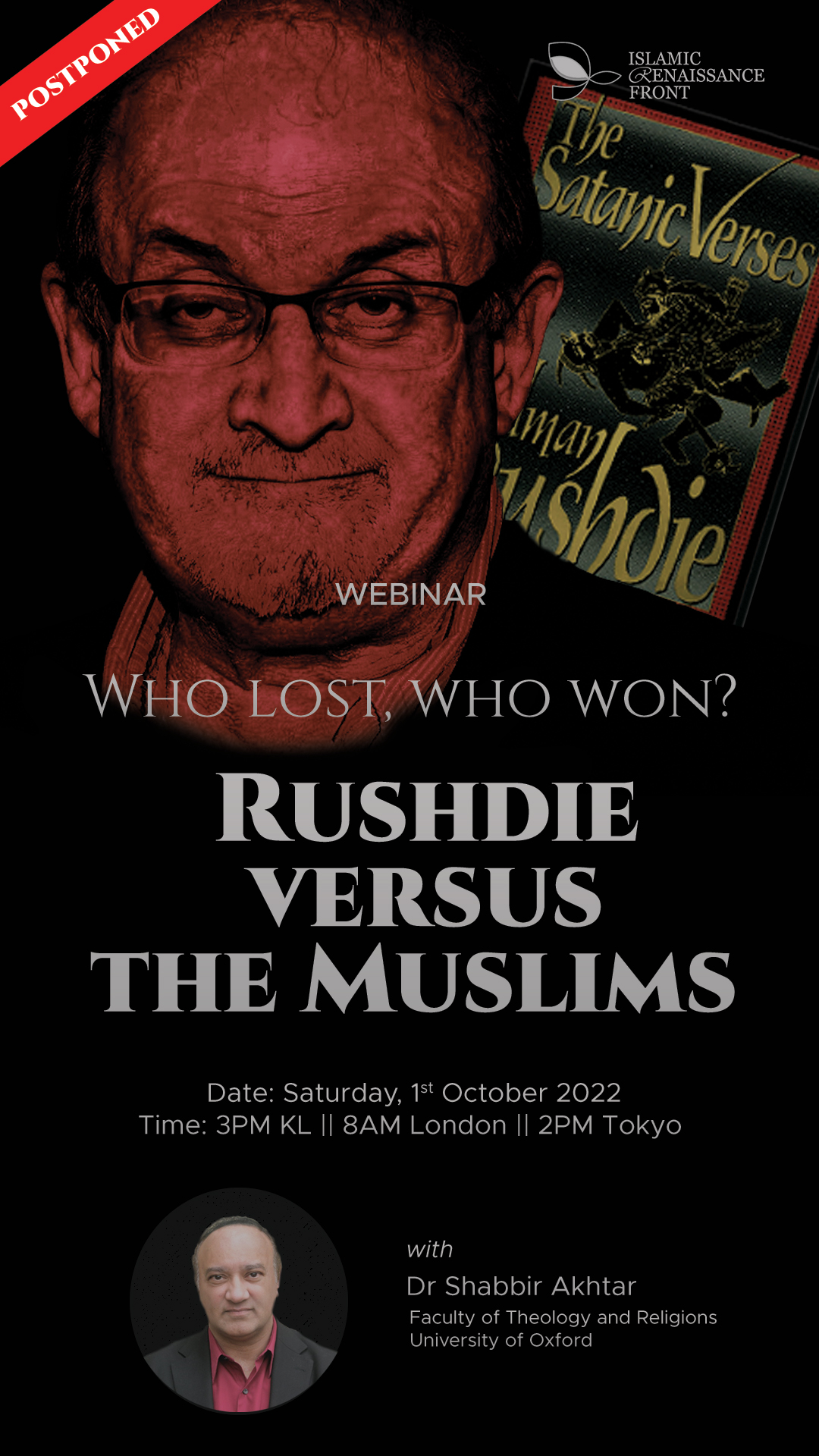 UPDATE:
We apologise that our webinar has to be postponed to another date since our speaker from Oxford University won't be available. Once the new date is confirmed, we will send out the Zoom link. Thank you all for your kind understanding.
Date: Saturday, 1st October 2022
Time: 3PM KL || 8AM London || 2PM Tokyo
Speaker:
Dr Shabbir Akhtar, Faculty of Theology and Religions, University of Oxford
Moderator:
Nageeb Gounjaria, Senior Research Fellow, Islamic Renaissance Front
Organised by:
Islamic Renaissance Front (IRF)
Register at : https://www.eventbrite.com/e/webinar-who-lost-who-won-rushdie-versus-the-muslims-with-dr-shabbir-ak-tickets-423036241787
The Zoom link will be sent upon registration before 1st October 2022. You can also send your questions in advance to [email protected]
Thirty-four years have elapsed since Salman Rushdie published The Satanic Verses (1988), a piece of hate literature parading as a novel that gratuitously insults the Prophet and his household as well as his companions. The resulting backlash among offended Muslims in many parts of the world eventually led the late Ayatollah Khomeini to issue a fatwa on Rushdie's head. Rushdie went into hiding for a decade, with rare public appearances under heavy protection by State-funded bodyguards. Notwithstanding occasional death threats, Rushdie never suffered any physical harm.
The recent stabbing incident on August 12, 2022 in New York shows that Rushdie is neither forgotten nor forgiven for his unabashed mockery of Islam; the Muslim public doesn't have a short memory. Surprisingly, media coverage for this incident was rather short-lived, lasting only a few days on popular news channels. Even more baffling is the relative silence from the Muslims' side. While condemning vigilante violence, Muslim leaders have stopped short of castigating Rushdie for his unrelenting provocation campaign of maligning Islam under the guise of hate speech peddled as free speech.
Does the mellow reaction of Muslim leaders show that Muslims are becoming increasingly apolitical, naively acquiescing to a status quo that is not indifferent to but is rather actively hostile to their interests?
Admittedly, Rushdie is no ordinary writer. Celebrated as the poster boy of free speech in the West, his celebrity status is at par with cult leaders. He has uniquely privileged access to Western leaders and people in power with whom he is often pictured wining and dining.
Does the West really care so much about free speech? Or is Rushdie simply a symbol of the power struggle between Islam and the West? Indeed, Muslims want to live with the west, not under the west. For centuries, Muslims have coexisted peacefully alongside non-Muslims in the West, a civilisation they helped to build. Indeed, attacks by Muslims on the West have always been a reactionary measure.
During this webinar, Dr Shabbir Akhtar will discuss his thoughts on Salman Rushdie and the battle for free speech, as well as the power struggle between Islam and the West.
About the Speaker

Dr Shabbir Akhtar, a Cambridge-trained philosopher, is on the Faculty of Theology and Religions at the University of Oxford. He has lectured at universities in the UK, Malaysia and the United States. An original thinker, a prolific writer and a gifted speaker, Dr Akhtar is a public intellectual and a poet with a global reach into the western and the Muslim worlds. Dr Akhtar has published and presented widely on pluralism, interfaith dialogue, political Islam, extremism and Islamophobia, besides Islam and Christianity's differing responses to the challenges of modernity. Dr Akhtar's books include A Faith for All Seasons (Bellew, 1990; Ivan Dee, 1991; Pustaka Zahra, 1992), (Scorpion, 1992), The Qur'an and the Secular Mind (Routledge, 2008) and Islam as Political Religion (Routledge, 2011; CNS, 2017). In 2018, he published The New Testament in Muslim Eyes (Routledge, 2018), the first such work on the Greek New Testament in Islamic history. Dr Akhtar's book (PDF) Be Careful with Muhammad: Salman Rushdie and the Battle for Free Speech (Bellew, 1989; Bijak, 2020) is available for purchase on his website https://shabbirakhtar.com/books/be-careful-with-muhammad-salman-rushdie-and-the-battle-for-free-speech-2nd-edition/
Program
1500-1505PM:   Introduction by the Moderator, Nageeb Gounjaria, Senior Research Fellow, Islamic Renaissance Front
1505-1545PM:   Presentation by Dr Shabbir Akhtar
1545-1625PM:   Discussion
1625-1630PM:   Concluding remarks by the Moderator, Nageeb Gounjaria