Economic Inequality in Malaysia: Challenges and Solutions
January 12, 2013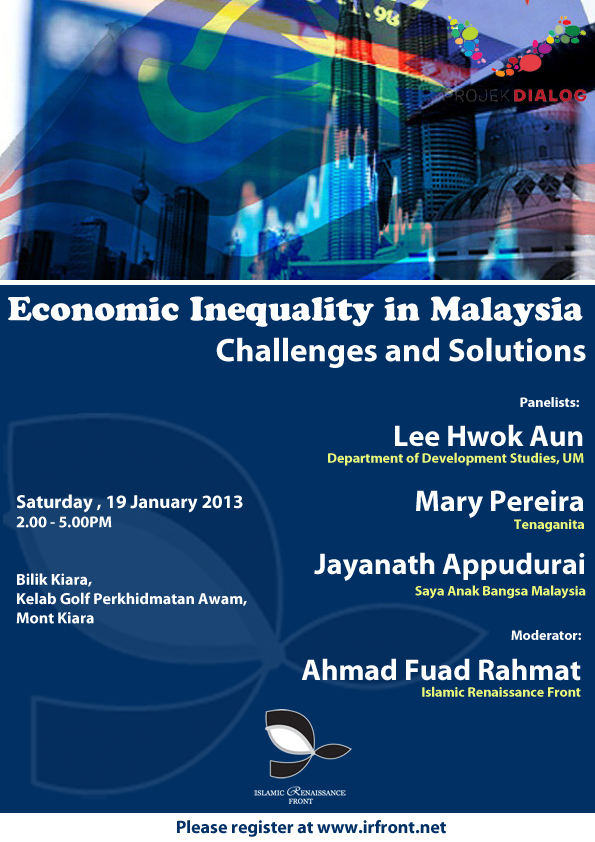 Venue: Kelab Golf Perkhidmatan Awam (KGPA) Mont Kiara, Kuala Lumpur
Date: Saturday, 19th of January 2013
Time: 2.00 – 5.00 p.m.
Registration: http://economicinequality.eventbrite.com/
Malaysia's image as a moderate Muslim country is often coupled with claims of its supposedly miraculous economic success. But while the country has fared well in some respects (when viewed comparatively in the region as a whole) many issues still remain unresolved: growth has been consistent but disparities between the rich and poor are also steadily widening. This raises the question of whether or not wealth is trickling down as it supposedly should. The poverty rate has also long remained unchanged, with many claiming with good reason that the RM 763 Poverty Line Income is not realistic when considering the overall wealth Malaysia produces. Malaysia is at the same time the largest importer of labor in Asia, which has amounted to rising xenophobia and violence against migrant workers who live and work with neither welfare nor political and legal recourse. Needless to say the environment too has been seriously affected as a result of the wide ranging large scale projects the government has undertaken in the name of modernising the economy.
This forum aims to help Malaysians think through some of the key issues in the Malaysian economy by focusing on the many levels of inequality that its approach to development has produced and subsequently overlooked. What is the source of the widening gap between rich and poor Malaysians? Is it an outcome of market distortion? Or is it the inevitable by product of an unregulated market itself? Who are the most affected? What, if anything can be done, to ensure a more just and equitable Malaysia? What, if anything, is the difference between Barisan Nasional's economic philosophy and Pakatan Rakyat's?
The forum features Dr. Lee Hwok Aun, of the Department of Development Studies at Universiti Malaya who has researched extensively on affirmative action. He will be joined by Dr. Mary Pereira, co-ordinator of Washing the Tigers: Addressing Discrimination and Inequality in Malaysia, a report conducted by Tenaganita in partnership with the Equal Rights Trust UK. The third speaker is Jayanath Appudurai of Saya Anak Bangsa Malaysia and chief editor of the Social Inclusion Act. Ahmad Fuad Rahmat of Islamic Rennaissance will be moderating the discussion.
Join us as we discuss and reflect on a very much ignored topic in Malaysian politics.
This forum is brought to you by the Islamic Renaissance Front and Projek Dialog, will be held at Kelab Golf Perkhidmatan Awam (KGPA) Mont Kiara, Kuala Lumpur on Saturday, 19th of January 2013, from 2.00 – 5.00 p.m. It is free and open to public. All are most welcome to attend and participate in the discussion. Please Invite friends and contacts as well.
For further information, email Ehsan Shahwahid at [email protected], or call 0122631160.