International Symposium on Multiculturalism In The Contemporary World: Sociological and Religious Perspectives
August 24, 2019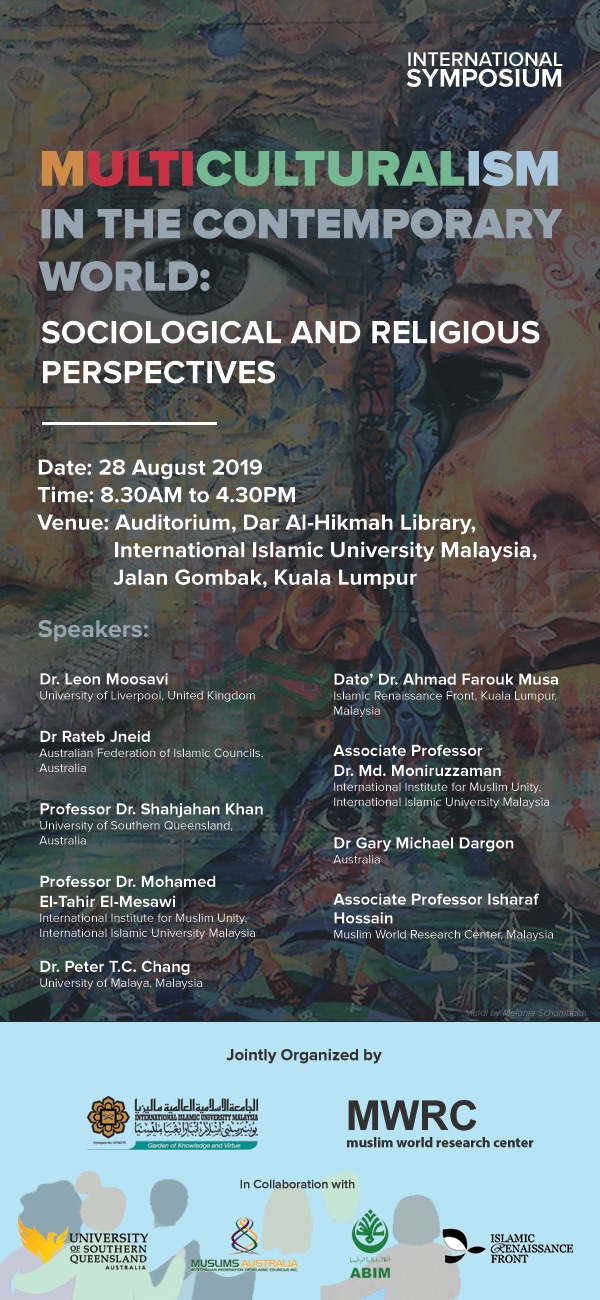 Date:    Wednesday, 28th  August 2019
Time:   8.30 AM to 4.30PM
Venue: Auditorium, Dar Al-Hikmah Library, International Islamic University Malaysia (IIUM), Jalan Gombak, Kuala Lumpur 
Register at: https://www.eventbrite.com/e/international-symposium-on-multiculturalism-in-the-contemporary-world-soci-tickets-70350880377
"What has come about with the modern age is not the need for recognition but the condition in which the attempt to be recognized can fail." [Charles Taylor, 'The Politics of Recognition]
Over the past few years, exclusionary and extreme right wing discourses were seen rising everywhere and in everything. The groups that typically endorsed divisive nationalist, isolationist, and xenophobic principles were once located outside the corridors of power are now occupying the leading positions in country's administration. This democratic backsliding triggered the debate about the failure of the multiculturalism as the unifying framework to sort communal and cultural differences within a society. Within Europe, these cynicisms culminated in a statement that was made by David Cameron in February 2011, who stated that multiculturalism was a "failed" policy of the past which had weakened collective identity and encouraged different cultures to live separate lives. While the divisions and tensions among the members of different communities are real, is it fair to put all the blame on Multiculturalism approach? Is it sufficient enough to render the totality of the concept irrelevant?
It must be noted that obituaries on the death of Multiculturalism has a long pedigree and by no means limited to David Cameron's declaration. The criticism, be it constructive or otherwise, always has it sources from the Left and Right. The contestation of Multiculturalism might have started as early as 1989 during the event of Salman Rushdie affairs. Tariq Madood, a known theorist of multiculturalism, describes that 'the Salman Rushdie Affair crisis made clear that minority-majority fault-line was not going to be simply about colour-racism; and that multiculturalism could not be confined to 'steel-bands, saris and samosas'. Regardless of how one thinks of Salman Rushdie Affairs, it is clear that simple and uncritical conception of multiculturalism would no longer work. The multi-layered meanings of movement, exchange and communication, as well as the particularities of social, political, economic, and cultural relationships within today's globalised society demanded a more robust understanding of multiculturalism instead of a superficial one.
Despite having its last rites continually read out by country leaders, multiculturalism continues to be the language and framework used to understand differences and as guidance in policy making. This is partly due to the fact that societies cannot be reduced to individuals, and therefore, are in a constant need for integration and creation of new bonds. The dynamic world that we live in still thrives on a multi and intercultural plasticity. However, the rising forces of nationalism and religious exclusivism, coupled with soaring economic inequality and economic problems in the present times, must invites a development of new and more critical conception of multiculturalism; one that is rooted in the present crisis on the ground. This conference shall make use of the long standing sources of sociological discourses and the vast and rich intellectual traditions in various religions to form a constructive engagement on the issue of multiculturalism and how it can address the problems of today.
Programs:
28 AUGUST 2019 (MORNING SESSION)
8.30 am – 9.00 am
:

Registration

Morning breakfast

9.00 am – 9.30 am

 

:

Welcoming remark by :

–       Prof. Dr. Waleed Fekry Faris, Director of the

International Institute for Muslim Unity (IIMU)

–       Prof. Shahjahan Khan, University of Southern Queensland (USQ), Australia

Officiating remark by

Prof. Dr. Nor Faridah Abdul Manap

Deputy Rector (Internationalisation & Global Network)

9.30 am – 10.45 am
:
1st Session Lectures by :

Prof. Dr. Shahjahan Khan, University of Southern Queensland (USQ), Australia
Dr. Rateb Jneid, (AFIC), Australia
Prof. Dr. Mohamed El-Tahir El-Mesawi, IIUM
Dr. Leon Moosavi, University of Liverpool, Singapore

10.45 am – 11.00 am
:
Morning tea break
11.00 am – 1.00 pm
:
2nd Session Lectures by :

Dato' Dr Ahmad Farouk Musa, (IRF), Malaysia
Dr. Peter T.C. Chang, University of Malaya, Malaysia
Assoc. Prof. Isharaf Hossain, (MWRC), Malaysia
Assoc. Prof. Dr. Md. Moniruzzaman, IIUM
Dr. Gary Michael Dargon, Australia

28 AUGUST 2019 (AFTERNOON SESSION)
1.00 pm – 2.30 pm
:
Lunch and Zohor Prayer
2.30 pm – 4.00 pm
:
Round table / Forum discussion
4.00 pm
:

Closing ceremony

End of programme

4.15 pm
:
Afternoon tea break
Jointly organized by:
International Islamic University Malaysia & Muslim World Research Centre
In collaboration with:
University of Southern Queensland, Australian Federation of Islamic Councils (AFIC), Angkatan Belia Islam Malaysia (ABIM) & Islamic Renaissance Front (IRF)