Public Lecture on: "The Bond of the Umma in a Changing World"
July 17, 2017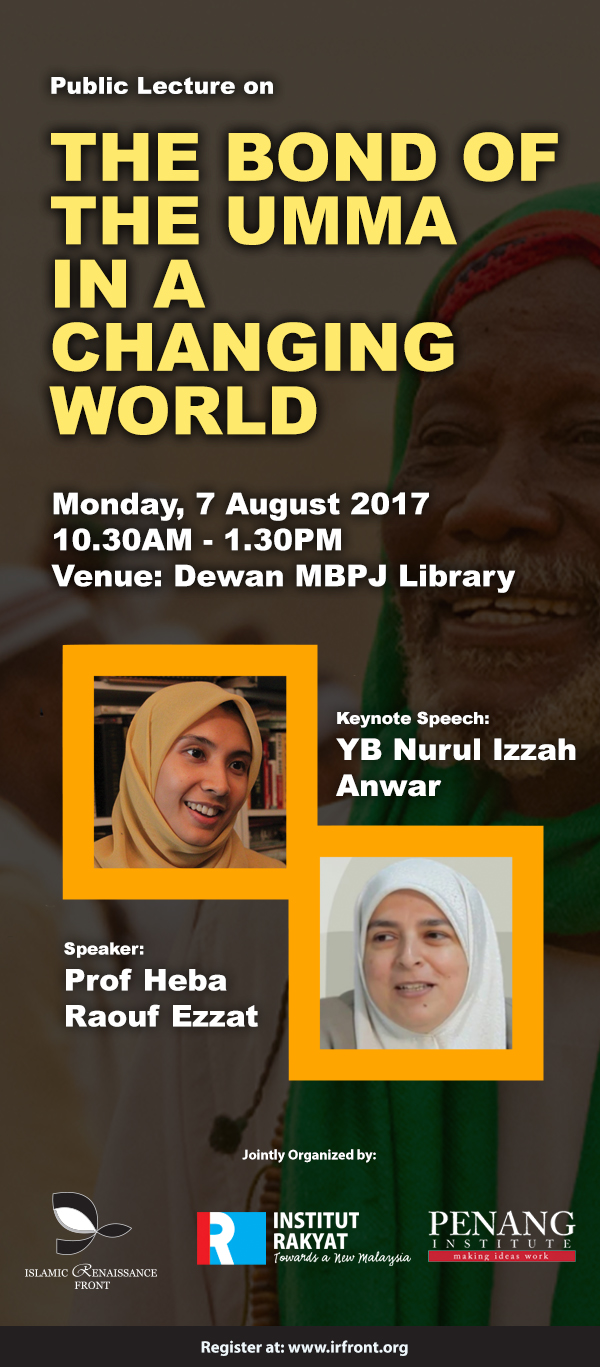 Date: Monday, 7 August 2017
Time:  1030AM – 1PM
Venue: Dewan MBPJ Library, Jalan Selangor, Seksyen 3, Petaling Jaya
Register: https://www.eventbrite.com/e/public-lecture-on-the-bond-of-the-umma-in-a-changing-world-tickets-36257738873
Keynote Speech by:
YB Nurul Izzah Anwar
Presenter
Dr Heba Raof Ezzat
Jointly organized by:
Institut Rakyat and Islamic Renaissance Front (IRF)
One of the most important functions of religion in human lives is its role in providing the bond of solidarity, through a common moral message, collective rituals and spiritual practices, and a common faith, moving towards a common destiny. These are common traits of a society to be considered as religious. In Islam, it goes one step further through the emphasize on forming an Umma, as manifested in one social entity, best exemplified by the society of Madinah, as it was led by the Prophet Muhammad himself more than 1400 years ago.
However, the world has changed a lot since the time of the Prophet. The united and solidified Umma has clearly disintegrated due to religious sectarianism, political contestation between dynasties, and colonialism. In modern times, the global trend of the formation of modern nation states has further turned the ideal of the one Islamic Umma into almost a complete collapse. What is left of the Umma might just be the remaining of an idea, if not just as an unrealistic dream.
The Muslim world of our current time has been divided into various nations plagued by political authoritarianism, religious extremism and in violent acts of terrorism. On top of these problems, we, the Muslim Umma – if such term still resonates in the minds and hearts of the faithful – is also in a state of crises, of economic inequalities, humanitarian conflicts and refugees, and stagnation of knowledge and technological advancements. Could there be in any ways that this ideal of one Ummatic bond is still relevant in facing the challenges of today, as how it was successful in creating one of the greatest civilization in human history many centuries ago?
How can we re-imagine the Umma and understand the overlapping spheres that form its maps of topography as well as maps of thought, and how can extremism be addressed while the right to resistance to oppression kept legitimate. This lecture will address some of these complex issues beyond the dominant passionate discourse and the rising neo-nationalism and serves as the right platform among academics and activists to discuss further on the topic.
Programs
1000-1030:   Registration
1030-1040:   Opening speech by the Chairperson, Ehsan Shahwahid
1040-1100:   Keynote speech by YB Nurul Izzah Anwar
1100-1200:   Presentation by Dr Heba Raof Ezzat
1200-1300:   Discussion
1300:              Tea
Biography of Presenter
Dr Heba Raof Ezzat graduated from Cairo University and taught at the political science department three courses of political theory and history of political thought for almost thirty years. She also was an affiliate professor at the American University in Cairo 2006-2013 where she taught courses on political Islam, contemporary Arab thought and political thought and theory. She was a visiting researcher then a visiting fellow at many distinguished academic institutions including University of Westminster , Oxford Center for Islamic Studies, Georgetown University, University of Maastricht, and University of California – Berkeley, and London School of Economics. She published widely on classic and contemporary Islamic thought, issues of Globalization, women and Islam, and urban politics. She has also been active in the public sphere in Egypt, was a coordinator of many youth initiatives and is a public speaker and commentator. She is also a translator and a poet. Her latest publications include two books in Arabic: Towards a New Civility and The Political Imagination of Islamists. Her translation of Ziauddin Sardar's book on Mecca into Arabic is due to appear in bookstores September 2017.