Public Lecture: The ISIS Crisis and the Spread of Radical Islamism: How Should the World Respond?
July 26, 2016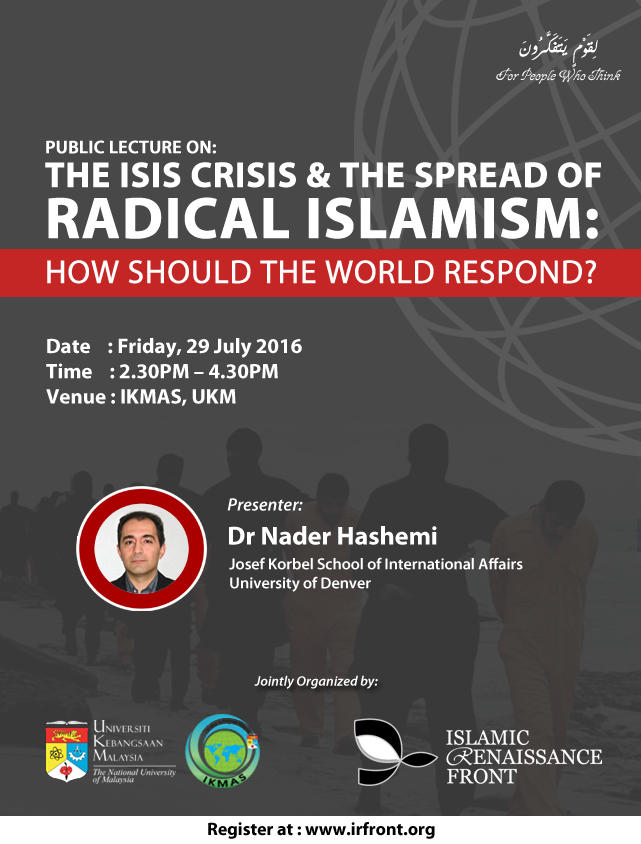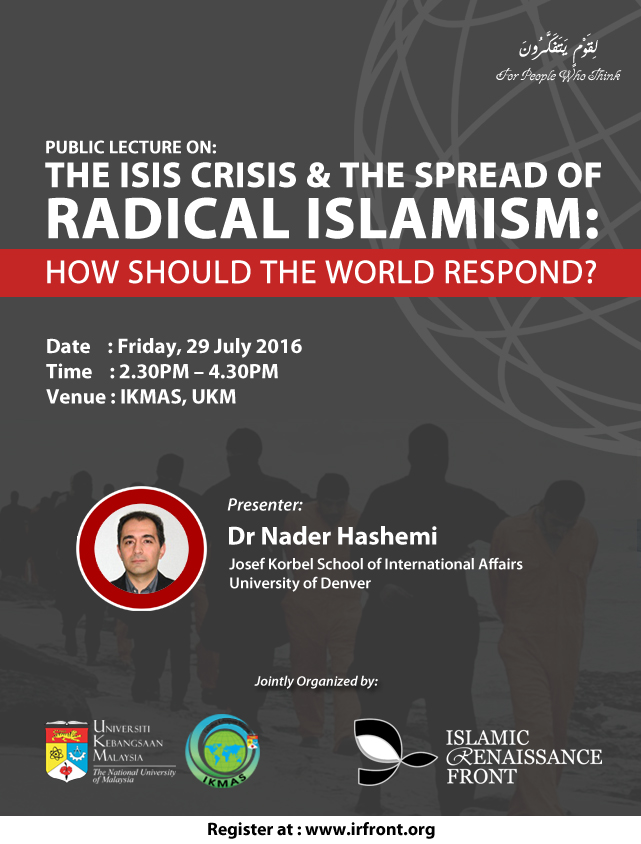 Date: Friday, 29th July 2016
Time: 230PM – 430PM
Venue: IKMAS, UKM
Registration: https://www.eventbrite.com/e/public-lecture-the-isis-crisis-and-the-spread-of-radical-islamism-how-should-the-world-respond-tickets-26773230453
Presenter:
Dr Nader Hashemi
Josef Korbel School of International Affairs
University of Denver
Two years have passed since the rise and expansion of the Islamic State in Iraq and Syria (ISIS). Recent military defeats on the battlefield has not affected the capacity of this organization to direct or inspire terrorist attacks in major world cities such as Paris, Brussels, San Bernardino, Orlando, Istanbul, Baghdad, Dhaka and now Nice. The threat of ISIS will remain at the top of the international agenda for the foreseeable future and further attacks are expected. Before a coherent strategy against ISIS can be devised, however, a clearer understanding of the roots of this organization is required.
What is the best framework of analysis to explain the rise and expansion of ISIS? Is the problem with ISIS fundamentally due to something inherent in Islam, Arab Culture or Muslim political thought? Richard Haass, the President of Council on Foreign Relations, has argued this point by affirming that this "is a deeply flawed part of the world that never came to terms with modernity." Similarly, President Obama on several occasions has spoken about "ancient sectarian differences" between Sunni and Shia, suggesting that perhaps today we are witnessing a Muslim version of Christian wars of religion in 16th century. His implication was there was little the international community could do to ameliorate the turmoil in the Arab-Islamic world; it had to simply burn itself out.
Or is the problem with ISIS fundamentally about the legacy of US intervention in Iraq in 2003? Did a failed US policy toward the Middle East inadvertently create ISIS as some have argued? What is the best entry point or point of departure to understand this vexed problem? This lecture will grapple with these questions and its implications for international security.
Jointly organized by: IKMAS and Islamic Renaissance Front