Reading Session on "Contemporary Islamic Discourse in the Malay-Indonesian World" with Dr Azhar Ibrahim
August 15, 2019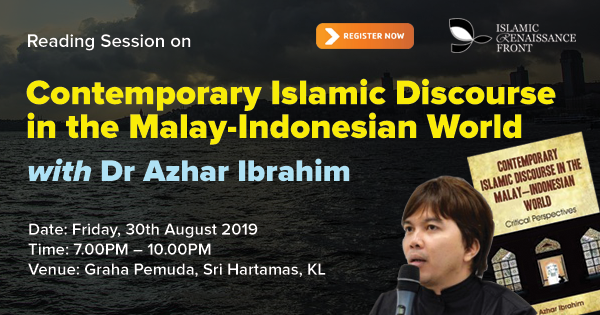 Date: Friday, 30th August 2019
Time: 7PM – 10PM
Venue: Graha Pemuda, Sri Hartamas, Kuala Lumpur
Register at: https://www.eventbrite.com/e/reading-session-on-contemporary-islamic-discourse-in-the-malay-indonesian-tickets-69255909289
While many books have probed the role of Islam in political and social change in Southeast Asia over the past three decades, few have focused on the power of the religious discourse itself in shaping this transformation. Contemporary Islamic Discourse in the Malay-Indonesian World captures the interplay between religion and social thought in comparative case studies from Malaysia, Indonesia and Singapore. Drawing on a critical sociology of knowledge and a profound understanding of historical contexts, the central focus is on Muslim intellectuals who have grappled with the impact of modernity in these societies, between those seeking to reform Islam's role and those who take a hard-line defensive stance.
The discussion deals successively with the role of religious traditionalism, the upsurge of dakwah revivalism and the public sphere, attitudes towards democracy and pluralism, and finally the ideas advanced by liberal Islam and its opponents. Above all, Azhar Ibrahim offers the reader a creative way of understanding the modern Islamic discourse and its relationship to the remaking of society at large.
Azhar Ibrahim's book cuts through the noise of much discourse on Islam and puts perspective to a vast amount of materials, effectively constructing their actual social and historical meaning. Contemporary Islamic Discourse in the Malay-Indonesian World gives a clear summary of the current religious issues in Southeast Asia and the discourses shaping them; it is a valuable resource for that summary.
About the Author
Azhar Ibrahim, PhD is a Lecturer at the Department of Malay Studies, National University of Singapore (NUS). He teaches Malay-Indonesian literature and ideologies of development at the Department. His research interest includes sociology of religion, sociology of literature and critical literacy, and the Malay-Indonesian intellectual development. Amongst his published books are: Emancipated Education (2019), Historical Imagination and Cultural Responses to Colonialism and Nationalism: A Critical Malay(sian) Perspective (2017), Menyanggah Belenggu Kerancuan Fikiran Masakini (2016), Contemporary Islamic Discourse in the Malay-Indonesia World: Critical Perspectives. (2014), Narrating Presence: Awakening from Cultural Amnesia. (2014).
Program
700-800PM:    Dinner and Solat
800-810PM:    Introduction by the Chairperson, Imran Rasid
810-900PM:    Presentation by Dr Azhar Ibrahim
900-1000PM: Discussion
1000PM:         End
Organized by: Islamic Renaissance Front