Reading Session on "The Impossible State" with Hazman Baharom (Part III)
November 2, 2018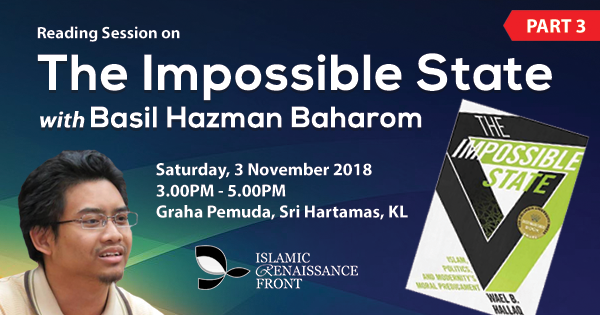 Tarikh: Sabtu, 3 November 2018
Masa: 3AM – 5PM
Tempat: Graha Pemuda, Sri Hartamas, Kuala Lumpur
Daftar: https://www.eventbrite.com/e/reading-session-on-the-impossible-state-with-hazman-baharom-part-iii-tickets-52121958180
The Impossible State: Islam, Politics, and Modernity's Moral Predicament
Wael B. Hallaq
The Impossible State– Bhg 3
Sesi ketiga ini akan membahaskan bab 6 dan 7, iaitu dua bab terakhir buku ini.
Dalam bab 6, Hallaq menjelaskan bahawa struktur dan konstruk ekonomi moden memustahilkan dapat terbentuknya sebuah ekonomi moral yang menjadi visi Islam. Bahkan, meskipun sebuah negara itu mendakwa diri berjaya menjalankan semua prinsip Islam sekalipun, dalam konteks globalisasi, ia tidak mampu juga untuk keluar dari kitaran ganas tersebut.
Bab 7 pula merupakan pernyataan semula Hallaq ke atas percanggahan moral antara sebuah "negara moden" dengan "pentadbiran Islam." Beliau menghuraikan kembali jalur penghujahan yang telah menjadi asas sepanjang perbahasan dalam buku ini.
Tentang Pengarang
Wael B. Hallaq adalah seorang Avalon Foundation Professor dalam bahagian Sains Kemanusiaan di Columbia University. Penyelidikan beliau melangkaui beberapa bidang termasuk undang-undang, teori perundangan, falsafah, teori politik, dan logika. Penerbitannya termasuk The Impossible State: Islam, Politics, and Modernity's Moral Predicament, Shari'a: Theory, Practice, Transformations; An Introduction to Islamic Law; and Authority, Continuity, and Change in Islamic Law. Hasol kerjanya telah diterjemahkan dalam pelbagai bagasa termasuk Arab, Indonesia, Yahudi, Jepun, Parsi, Turki, dan Rusia.
Program
3.00-3.10AM:  Pengenalan oleh Pengerusi, Ahmad Muziru Idham
3.10-4.00AM:  Pembentangan oleh Basil Hazman Baharom
4.00-5.00PM:    Diskusi
500PM:              Tea
Anjuran: Islamic Renaissance Front