Roundtable Discussion On: Challenging Religious Extremism in the Nusantara
January 24, 2017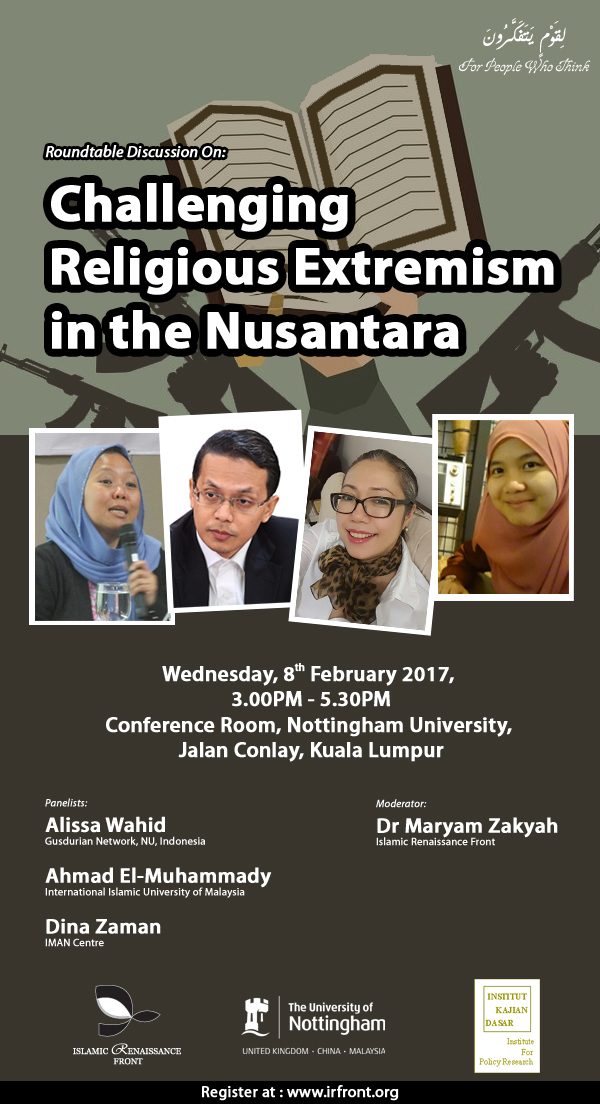 Date: Wednesday, 8th February 2017
Time:3-530PM
Vanue: Conference Room, Nottingham University, Jalan Conlay, Kuala Lumpur
Registration: https://www.eventbrite.com/e/roundtable-discussion-on-challenging-religious-extremism-in-the-nusantara-tickets-30945207950
Panelists:
Alissa Wahid, Gusdurian Network, NU, Indonesia
Ahmad El-Muhammady, International Islamic University of Malaysia
Dina Zaman, IMAN Centre
Moderator:
Dr Maryam Zakyah, Islamic Renaissance Front
All over the world there has been a rise of extremism using arguments based on religion, whether it is Islam, Christianity, Judaism, Buddhism or any other faith to justify violence and discrimination. A complex series of psychological, political, historical and theological factors combine to trigger such behaviour.
Malaysia and Indonesia, home to the world's largest Muslim population, which are part of the Malay Archipelago or known as Nusantara, are no stranger to Islamist extremism. History has it that the al-Qaeda-linked Jemaah Islamiyyah (JI) staged a large-scale attack on eleven churches in 2000 and then the Bali bombings in 2002 which killed 202 people. But now it seemed, Indonesia is facing a new threat. Twenty-two groups have pledged allegiance to ISIS' leader, Abu Bakr al-Baghdadi. And today, ISIS has taken over the space in Indonesia, which was once dominated by JI and al-Qaeda affiliates.
Some attributed ISIS' online propaganda as a powerful recruitment tool, and out of 3,000 pro-ISIS websites in Southeast Asia, over 70% of them originated from Indonesia. That was the reason why over 600 Indonesians were believed to have travelled to ISIS-held territories in the Middle-East, compared to only 400 JI militants who trained with al-Qaeda in the space of ten years. Similarly, the number of Malaysians joining ISIS is noted to be growing over the past four years, with 119 arrested last year alone for trying to join ISIS. But what is more worrying is that, based on PEW survey, Malaysian Muslims are more likely than Indonesian Muslims to consider suicide bombing justifiable – 18 percent versus 7 percent.
The question is, what really drives these people to have this kind of motivation? Could it be due to the school system that resonates with the ISIS worldview that there is an "us-versus-them" world order? Or having grown up with a state-sanctioned view of intolerance towards non-Malay Muslims have made these young souls find ISIS' ideology easy to accept? These are the issues that will be addressed, discussed, and debated during this Roundtable Discussion.
Programs
230-300PM: Registration
300-310PM: Welcoming speech by Dr Joanne Lim
310-320PM: Opening speech by Moderator, Dr Maryam Zakyah
320-350PM: Speech by Alissa Wahid
350-410PM: Intervener I: Ahmad El-Muhammady
410-430PM: Intervener II: Dina Zaman
430-530PM: Discussion
530PM: Tea
Jointly Organized by:
Islamic Renaissance Front, Nottingham University and The Institute for Policy Research
Biography
Alissa Wahid is the Founder and National Coordinator of Gusdurian Network, a vast network of activists in Indonesia. It engages thousands of activists and supporters, with affiliate communities in more than a 100 cities. As a value-based network, it concentrates on values of humanity, justice, liberation (of any oppression), and peace. Currently, the Network focuses on issues of Multiculturalism, Democracy, and Human Rights. Alissa Wahid is the eldest daughter of the late President of Indonesia, Abdurrahman Wahid (Gus Dur). Alissa Wahid is well-known for her social media campaigns on many human right issues, while working endlessly at the grass root levels, supporting various cases of marginalized groups and discriminations. She is currently working on initiatives to counter violent extremism through interfaith youth projects. She is also involved in Islam Nusantara movement to promote peaceful Islam. She also an Eisenhower Fellow for Women's Leadership Program 2015.
Ahmad El-Muhammady is an Islamic Studies and Political Science lecturer at the International Islamic University Malaysia. He received his B.A. (2004) and M.A. (2010) in Political Science from the International Islamic University Malaysia (IIUM). Currently, he is a lecturer in political science and Islamic studies at the Department of Human Sciences, IIUM while working on a doctorate at the International Institute of Islamic Thought and Civilization, Kuala Lumpur. His research is on extremist ideology and terrorism in Malaysia. In 2011, Mr Ahmad was appointed a panelist in the Royal Malaysia Police's Special Rehabilitation Programme for militant detainees. He has been a regular public speaker on the issue of militancy and terrorism in Malaysia, to government agencies, civil society groups and the law enforcement and intelligence community.
Dina Zaman is the Founding Member and Executive Director for Iman Research. She has a Master degree in Creative Writing from the University of Lancaster, UK and Honours degree in Communications from Western Michigan University, US and works in the media. She has written a book on Muslim Malaysians titled I Am Muslim and covers Muslim life in her columns for Malaysiakini.com, The Malaysian Insider and The Malay Mail Online. She was a recipient of the Nippon Foundation's Asian Public Intellectual Fellowship in 2012, and her research was a comparative study on saints in Indonesia and Malaysia. She is currently compiling her published essays for a new book. She has been in the media for over 20 years, serving as editor at Malaysiakini.com and The Malaysian Insider. She also has a background in corporate communications, and believes that research, advocacy and journalism can be utilised in a multimedia platform that will serve policy makers, governments and media owners.