Roundtable discussion on: "Islam and the Secular State"
May 11, 2015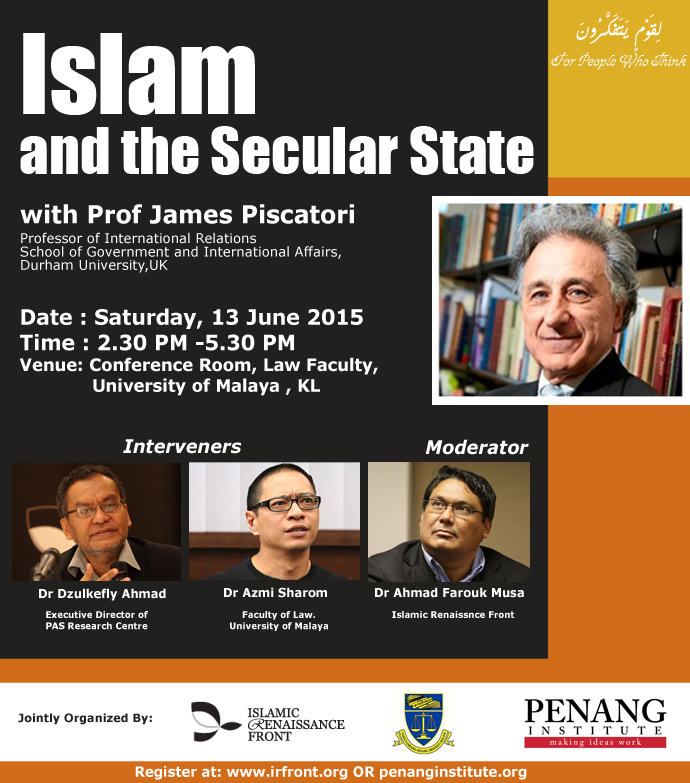 Date: Saturday, 13th June 2015
Time: 230-530PM
Venue: Conference Room, Law Faculty, University of Malaya, Kuala Lumpur
Registration: https://www.eventbrite.com/e/roundtable-discussion-on-islam-and-the-secular-state-tickets-16932669069
The secular state has emerged in modern times in response to religious infighting that plagued Europe for over a century, and has put social life on a self-destructing path. The Hundred Year War posed a serious threat to the then emerging modern Europe, underscoring the need to keep the state and church at a comfortable distance.
While the secular state was designed to prevent organized religion from controlling public institutions, it did not necessarily aim at undermining religiosity per se, or alienating religious communities. Rather, it was perceived as multi-religious society's best defence against the imposition of the religious values and worldview of one community on another.
For many Muslims, however, the secular state is viewed as an instrument used to undermine religious heritage and deny the relevance of moral teachings to public life. While this perception has an element of truth, it does not necessarily depict the general nature of western secularism. Evidently, Muslim perceptions of secularism are not formed through an understanding of the original purpose and historical circumstances of western secularism, but is influenced by the Muslim experience of secular dogmatism and the intolerance of the secular state in contemporary Muslim societies, most notably that of Atartuk's Turkey.
And reacting to secular dogmatism, populist Islamic groups have advanced a conception of the state that, while different in substance, is similar in purpose and form to the very secular state they oppose. Like Muslim secularists, Islamic populists see the state as an instrument in the hands of ruling powers for imposing a particular conception of the world on the rest of society. They insist, therefore, that the Islamic state should be charged with the duty of imposing Islamic law on the larger society
Hence this roundtable discussion will discuss this seemingly complex relationship between the actors involved in promoting their ideas in the modern world, and particularly in this country. Could political order that emerged under Islam be perceived as an exclusively Muslim, or instead constructed on the basis of universal principles that transcend sectarian divisions? And is there a need to have a fresh Islamically-based conceptualization of political action and organization in ways that would help to reclaim the moral core of social life, which has been eroded with the advance of western secularism, without sacrificing the important principles of freedom and equality?
Programs:
230-300PM: Registration
300-305PM: Introduction by Moderator, Dr Ahmad Farouk Musa
305-315PM: Opening speech by YB Zairil Khir Johari, Executive Director of Penang Institute
315- 400PM: Speech by Prof James Piscatori, Professor of International Relations, School of Government and International Affairs, Durham University, UK
400-415PM: Intervener 1: Dr Dzulkefly Ahmad
415-430PM: Intervener 2: Dr Azmi Sharom
430-530PM: Discussion
530PM: Tea
Jointly organized by:
Islamic Renaissance Front,
Law Faculty, University of Malaya and Penang Institute